The history of Seiko watches is a story of innovation, from the early days of watchmaking to modern advances in technology. For over 130 years, Seiko has been a leader in pushing the boundaries of timekeeping and revolutionizing the way we think about watches. From their first pocketwatch movement to their groundbreaking quartz crystal movements, this company has consistently set new standards for accuracy and craftsmanship. In this article, we will explore some of the most significant milestones that have shaped the watchmaking industry throughout Seiko's long history.
Origins Of Seiko
Seiko has been a pioneer of the watchmaking industry since its humble beginnings in 1881. It was founded by Kintaro Hattori, who opened his first shop in Tokyo selling and repairing watches and clocks. His dream was to create Japan's first wristwatch—a goal he achieved with the launch of Seikosha's Timekeeper just four years later. The success of this initial release set Seiko on its course towards becoming one of the most influential companies in modern horology.
The brand went from strength-to-strength throughout the twentieth century, developing some of the earliest mechanical movements and establishing itself as an innovator during World War II. In 1969, they released their iconic Astron 35SQ –the world's first quartz timepiece–which revolutionized accuracy and reliability within the watchmaking industry. Since then, Seiko has continued to push boundaries; introducing cutting edge technology such as Kinetic movements, which use motion to power watches rather than batteries or traditional winding mechanisms.
In addition to innovative designs that have forever changed how people tell time, Seiko also prides itself on being environmentally responsible and collaborating with famous designers including Giugiaro and Shiro Kuramata to produce unique pieces for avid collectors around the globe. With each new creation comes a promise that innovation will continue into future generations, ensuring Seiko remains at the forefront of watchmaking excellence for many years to come.
The Quartz Revolution
The Quartz Revolution of the 1970s revolutionized watchmaking in ways that no one could have anticipated. Seiko's innovations made an indelible mark on the industry and left a lasting legacy. From quartz wristwatches to automatic movements, materials science, design collaborations, and brand identity – Seiko was at the forefront of this groundbreaking era.
In 1969, Seiko released their Astron model; it was the world's first production quartz wristwatch. On December 25th of that same year, they sold the very first unit in Tokyo for 450,000 yen (the equivalent of more than $9,000 in today's terms). This breakthrough changed not only how watches were powered but also had implications for accuracy and reliability since quartz-driven clocks can keep time with greater precision than mechanical or manual models. Not surprisingly, sales skyrocketed as customers sought out these new products which offered unprecedented convenience and performance capabilities.
Seiko would continue to innovate throughout this period by bringing together various elements such as automatic movements, materials science advancements, design collaborations with leading fashion houses like Issey Miyake and Yohji Yamamoto, along with developing a strong sense of brand identity through powerful advertising campaigns. As a result of their commitment to innovation and quality control practices set forth during this time period, Seiko remains one of the most prestigious luxury watch brands globally even today.
It is clear that The Quartz Revolution marked an important milestone for Seiko and for the entire watchmaking industry as a whole. Through its cutting-edge advances in technology and unparalleled attention to detail across all areas from product development to marketing – Seiko has become synonymous with excellence within the global marketplace
Seiko's Impact On Sports Timing
Seiko's impact on sports timing began in the 1960s with its introduction of kinetic movements, which helped to revolutionize watchmaking and further enhance accuracy. With these technological advancements, Seiko was able to produce watches that could accurately measure time down to the second, making them a must-have for athletes competing at all levels of competition. Its timeless design also meant that it would remain relevant over the decades without needing frequent upgrades or replacements.
In 1971, Seiko released its first quartz chronograph wristwatch – an innovation that had far-reaching implications for sports timing and precision engineering around the world. This new technology allowed for even more accurate measurements of elapsed time during sporting events, allowing athletes to achieve higher levels of performance than ever before. In addition, this advancement enabled better records tracking for competitions across many different sports disciplines.
Through its continued innovations in sports timing, Seiko has consistently demonstrated its commitment towards crafting products that can withstand the test of time while providing reliable results every single day. By combining cutting-edge technology with traditional craftsmanship, they have created dependable pieces that are essential components of any athlete's toolkit – both now and into the future.
Seiko And The Luxury Watch Market
In the 1960s, Seiko set out to create a watch that would be considered luxury in its own right. This endeavor resulted in the introduction of Grand Seiko, an iconic brand that has since become renowned for its artisanal craftsmanship and sophisticated style. Grand Seiko's attention to detail was evident from the very beginning – each piece is meticulously hand-crafted using only the finest materials available. The watches also feature intricate movements and innovative technology, making them some of the most sought-after timepieces on the market today.
As Grand Seiko continued to gain popularity within Japan, it soon spread around the world as well, becoming one of the most recognizable names in high-end watchmaking. The company built upon this success by introducing new collections such as Presage and Astron, each offering unique designs and top-of-the-line performance features. These additions allowed Seiko to expand their reach into other markets outside of Japan, cementing their presence as a leader in luxury watches.
The rise of Grand Seiko has been truly remarkable; not only have they established themselves as an iconic brand within Japanese culture but they have also managed to capture global admiration with their luxurious design and technological innovations. From sports timing to luxury watchmaking, Seiko has left an indelible mark on modern horology through their commitment to quality products and timeless style.
Seiko's Technological Advancements
Since its inception in 1881, Seiko has continually pushed the boundaries of watchmaking technology. From a humble beginning as a jewelry shop run by Kintarō Hattori, it became an unstoppable force that revolutionized timekeeping and made precision affordable for everyone. The quartz revolution was just one example of how Seiko sought to bring advanced technologies into the mainstream.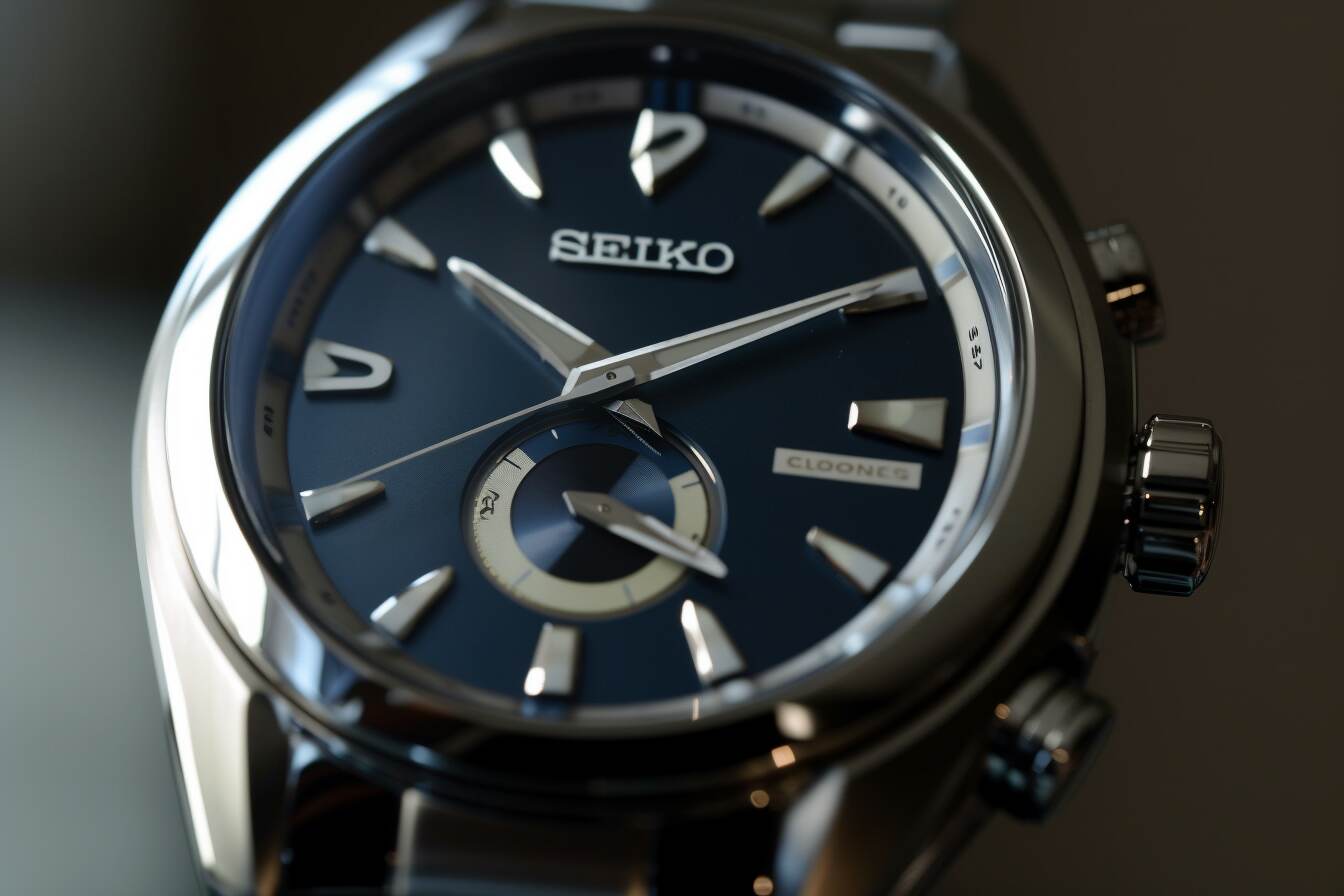 The introduction of hybrid technology allowed them to combine mechanical and electronic components into one cost-effective movement that increased accuracy while still providing robustness. Various innovations in materials enabled lighter watches with superior durability and resistance to water and shock damage. Further advances such as radio wave synchronization also provided worldwide accurate timekeeping without manual changes or complex calibration procedures.
Seiko's global expansion was equally impressive; their products have been sold all over the world since 1924 as they look to offer their customers leading edge functionality at a reasonable price. Over the years, this has included features like solar power cells, kinetic energy storage systems, atomic clock synchronization, GPS positioning services and more. As we look back on Seiko's contributions to horology, we can see why they are seen as pioneers in both innovation and reliability!
Revolutionary Quartz Movement
Hybrid Technology Combining Mechanical & Electronic Components
Innovations In Materials For Lighter Watches With Superior Durability – High Precision Craftsmanship and Quality Control
Seiko's Global Expansion
In the early 1970s, Seiko made its mark on the international watch market with an eye towards Japanese aesthetics. Seeking to bring traditional craftsmanship and modern technology together, Seiko designed watches that were both innovative and luxurious. This approach allowed them to quickly gain a foothold in the high-end watch industry, as well as capture the attention of consumers around the world.
The success of their global expansion was further bolstered by their commitment to sustainable manufacturing practices and corporate social responsibility initiatives. Utilizing advanced technologies, they sought to reduce energy consumption while minimizing waste wherever possible. They also championed ethical labor standards for all production facilities worldwide, providing workers safe working conditions and fair wages.
Today, Seiko continues to be a leader in watchmaking innovation and sustainability. By capitalizing on Japanese culture, emphasizing quality craftsmanship and upholding environmental stewardship principles, they have become one of the most respected names in the industry – remaining committed to excellence throughout their long history.
Seiko's Role In Japan's Cultural Identity
It might seem ironic that a watchmaker from an island nation would become renowned throughout the world for its innovative and high-quality timepieces. Yet, Seiko's global success has enabled it to make a profound impact on Japan's cultural identity by creating exclusive designs with innovative features made of the highest quality materials.
Seiko watches have been embraced by numerous Japanese artists as well as members of the business community who recognize their commitment to aesthetic excellence. These individuals appreciate how each model is carefully crafted with meticulous attention paid to detail and precision in order to deliver reliable performance year after year. The company's reputation was further reinforced when they released limited edition watches featuring unique artistry and style that could only be found within the confines of their design studio.
In addition, many people across Japan associate Seiko watches with luxury due to their sophisticated styling combined with technological advancements that guarantee accuracy and reliability no matter what activity you are taking part in. Therefore, it can be said that Seiko is a leader in both fashion and function, making them the go-to choice for those looking for stylish yet dependable wristwatches. As such, this iconic Japanese brand continues to shape Japan's cultural identity through its timeless designs and cutting-edge technology.
Seiko's Sustainability Efforts
Seiko has long been a leader in sustainability within the watchmaking industry. Founded in 1881, Seiko is committed to minimizing carbon emissions and promoting eco friendly practices. In 2019, it became one of the first Japanese companies to join RE100; an organization that works with major corporations around the world to make their electricity use 100% renewable by 2050. Moreover, Seiko has partnered with several environmental organizations such as Eco-Age, Oceans Conservancy and WWF Japan in order to promote sustainable business operations.
Seiko's global reach enables them to have positive impacts on different societies while simultaneously raising awareness about various environmental issues. To this end, they have implemented numerous initiatives ranging from reducing plastic waste to increasing energy efficiency at their factories worldwide. Additionally, they are using recycled materials for some of its packaging material and even encouraging customers to recycle old watches through its 'Bring Back' program where people can send back used watches to be refurbished or resold.
This commitment to sustainability places Seiko ahead of many other watchmakers in terms of environmental stewardship and responsibility. Its efforts demonstrate how businesses can play a role in protecting our planet while creating meaningful products that last for generations. With these innovative measures, Seiko is demonstrating leadership both within the watchmaking industry but also more broadly when it comes to corporate social responsibility
Conclusion
In the years since its founding, Seiko has been a major driving force in shaping watchmaking and innovation. From their sustainability efforts to their technological advances, Seiko's commitment to excellence continues to lead the industry into new eras of design and development. It is no wonder that they are one of the most respected brands in horology today.
Seiko's dedication to progress has resulted in many iconic innovations throughout history, from creating the world's first quartz-crystal wristwatch in 1969 – leading to an entire revolution of electronic elements in watchmaking – to pioneering Spring Drive technology for unparalleled accuracy. These are just some examples of how far Seiko has pushed boundaries within the field:
In 1959, Seiko released Japan's first self-winding mechanical watch (the Laurel).
In 1962, they launched Astron – the world's first quartz watch with integrated circuit tuning fork movement.
In 1973 they created Caliber 35 – the world's smallest automatic chronograph movement at only 7 millimeters wide!
Seiko stands as a testament to what can be achieved when you strive for greatness; by embracing challenges and pushing boundaries through perseverance and innovation. Their influence on modern watchmaking will undoubtedly have lasting effects on generations of enthusiasts yet come.