One of the most sought-after Rolex watches is the GMT-Master II Batman. In terms of long-term value, it is an excellent investment. Sporting the impressive In-house calibre 3285 and a 70-hour power reserve since 2019.
GMT-Master II Batman: Pricing & Models
Waiting periods of several months or even years can be expected if you buy the current model from an offline retailer. Buying a pre-owned timepiece allows you to avoid the line. The majority of timepieces, on the other hand, will set you back a hefty sum. The previous edition is no longer available from authorised Rolex dealers. Finding a private seller or independent dealer is your best option.
The 116710BLNR is a well-liked timepiece, and as a result, its value has skyrocketed in recent years. It costs about $19,000 for a piece in mint condition and $18,000 for a pre-owned one. There are no indications that the value of the original Batman will decrease in the near future.
In fact, its recent results are extremely encouraging. In 2018, the same Batman would have set you back about $10,500 USD. more than 60 per cent growth in just two years. Never-worn pieces of this model have become even more scarce since production ceased in 2019, resulting in a price increase that is expected to continue well into the future.
With an official list price of 8,800 CHF, the 2019 model 126710BLNR is approximately 35,600 Saudi Riyals). Even though it appears to be a reasonable price, there is a severe shortage of the product. To avoid the long waits associated with authorized Rolex dealers, you should consider purchasing your watch from the second-hand market. On the internet, you can purchase the newest Batman for about $19,000 new or $18,000 preowned.
12/19/2021 Updated
Retail: $9,500 (SAR 35,654)
Market: $19,292 (SAR 72,405)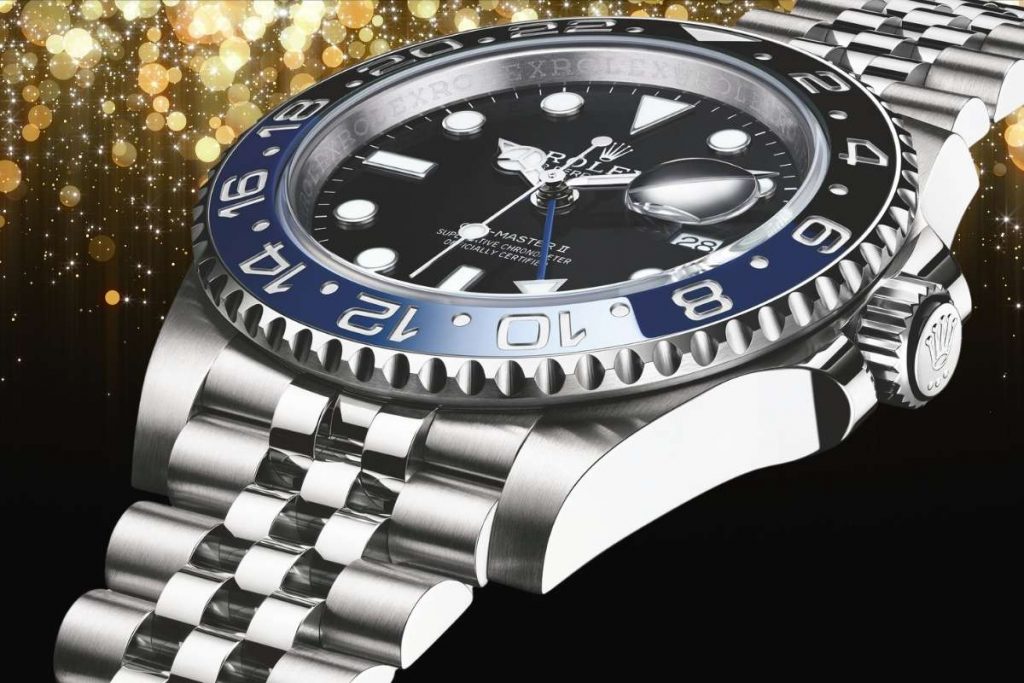 Years Rolex Batman was Produced:
2013 – Present
Rolex Batman Nickname Origin:
Rolex's green Submariner with ceramic bezel insert isn't the only Rolex sports watch with a superhero nickname; the latest addition to the GMT-Master line, the reference 116710BLNR, is lovingly called the "Batman GMT" by many Rolex collectors.
Rolex Batman Celebrity Associations:
John Mayer, Roger Federer, Christian Benteke, Kasper Schmeichel
---
---
GMT-Master II Batman History
As early as the mid-2000s, when Rolex first began offering GMT-Master II watches with Cerachrom ceramic bezels, there was a significant omission in terms of design: a bi-colour bezel. GMT-Master watches have been known for their signature two-tone bezels since the mid-1950s, but Rolex claimed that the material's nature made it impossible to make a Cerachrom bezel with two different colours.
For the first time, Rolex unveiled the GMT-Master II ref. 116710BLNR with a Cerachrom bezel in black and blue. Short for blue and black, BLNR is an abbreviation of blue and black in French. Like many Rolex watches, the new GMT Master II Batman was given a nickname over time, and is now widely referred to as the "Batman."
The 116710BLNR was replaced by the GMT-Master II Batman ref. 126710BLNR in 2019 after just six years of production. Batman's distinctive Cerachrom bezel was retained, but the new reference is equipped with Rolex's most recent calibre and is only available on a Jubilee bracelet, not an Oyster bracelet. Rolex's 126710BLNR bracelet has earned the nickname "Batgirl" because of its dressier design.
2013: The GMT-Master II Batman ref. 116710BLNR is the first Rolex timepiece to feature a bi-coloured Cerachrom bezel. (Right)
2019: Ref. 126710BLNR, Rolex's newest GMT-Master II Batman, features a new movement and a Jubilee band. (Left)
More History Of The Rolex Batman
At Baselworld in 2013, the Rolex GMT-Master II Ref 116710BLNR Batman drew attention. Rolex's first two-tone ceramic bezel was on this model. This, despite the fact that Rolex introduced cerachrom bezels to the GMT-Master II (Ref 116718LN) in 2005, eight years before the current model was introduced. Though ceramic is difficult to work with, it's worth it in the end. This is why Rolex said it was impossible to make a ceramic bezel with a dual-toned colour pattern. Until, of course, they did it.
This is significant to collectors for a variety of reasons. Obviously, this is the first watch to display this new technology. The original GMT-Master had a bi-colour bezel, which was a fundamental design feature. Pan American Airways requested a watch that could display more than one time zone, so Rolex created the watch in response (for transatlantic flights). One of its most distinctive features was its two-tone colour scheme, which differentiated between day and night. A look at this 1963 Rolex GMT-Master will show you what I'm referring to.
To differentiate it from the Pepsi of old, the Ref 116710BLNR sports a blue and black ceramic bezel (BLNR stands for bleu/noir). In order to understand where the name Batman came from, you don't need much imagination. A blue and black bezel had never been seen before in the collection, making this a first. There is no GMT-Master II collection without one of these. For the Rolex Submariner 116610 LV Hulk, the same holds true.
For a long time, the only steel Rolex GMT-Master II with a bi-colour bezel was the Ref 116710BLNR. Rolex made the Pepsi GMT-Master II available only in 18k white gold in 2014, which is why. This made it more difficult to access, but also less authentic in some ways. Everyone knows that a good tool watch is made of steel. This, of course, led to the creation of a cult following for the character of Batman. As a result, getting your hands on one requires months of patience when going through authorised channels.
Now the original Batman has been superseded by the new Rolex GMT-Master II Ref 126710BLNR. Does that mean it's the better watch to buy?
Comparing the references, 116710BLNR and 126710BLNR The Ref 116710BLNR and the Ref 126710BLNR appear nearly identical to the untrained eye. The bracelet is the most obvious deviation. Unlike the majority of Oyster's tool watches, the original Batman is strapped to an Oyster bracelet. Think of the Rolex Daytona or the Rolex Deepsea and you'll see what I mean. You get the point. The 5-link Jubilee bracelet, on the other hand, is a far more mature choice. The bracelet now features a solid folding buckle with an Oysterlock and a 5mm Easylink extension in keeping with the sports watch theme.
According to Rolex, it is not possible to swap bracelets. That's because of the new end links on the Jubilee bracelet's redesigned lugs. Because many people prefer their tool watches to have an Oyster bracelet on them, this has been a source of debate But that doesn't mean it's any less impressive. It isn't the case. The Datejust 41, for example, is a dress watch that features this particular dial. Update In the month of March of this year: The Oyster has returned! The Oyster bracelet was reintroduced by Rolex in 2021 as an option on the Ref 126710BLNR. There was no fanfare or explanation for this decision from Rolex. That being said, this does not take the place of the Jubilee bracelet. For buyers, the choice is between the two options. In spite of the Oyster option's slightly lower price. This is sure to bring a smile to the faces of many people. Oyster's first-generation Batman may be less desirable for those who already own one. However, this model is desirable for other reasons. Below, we'll see why.
The case is the same as it was previously. 40 mm in diameter and 12.5 mm in thickness. – The blue and black ceramic bezel and the black dial remain unchanged. So, there'll be a blue GMT hand, as well as maxi-indices and a cyclops-enhanced date window at 3 o'clock. Look closely and you will see a small crown logo between "Swiss" and made at the bottom of the face. This is because the Ref 126710BLNR has a new generation of Rolex movements in it.
A new variable-inertia balance wheel and a more efficient escapement and gear train are included in the calibre 3285. It also has a larger reserve of energy. When fully charged, the Ref 116710BLNR's previous calibre 3186 lasted 50 hours. It now takes 70 hours with the new calibre. A Superlative Chronometer certification and a 5-year warranty are included in the purchase price.
It is part of a larger effort by Rolex to harmonise their GMT-Master II collection with the new Batman. A bi-colour ceramic bezel will be required on all models in the collection starting in 2019. All models will be equipped with the 3285 calibre, which is the latest generation. Because of this, four references are no longer in use. Fortunately for Rolex fans, it could also have an impact on which Batman you choose.
Rolex GMT-Master II Ref 126710BLNR 'Batman' Specification
Basic Info
Brand
Rolex
Collection
GMT-Master II
Complications
Gmt, Date
Features
Rotating bezel
Style
Pilot
Case
Crystal
Sapphire crystal
Dial Color
Black
Water Resistance
100 meters
Dial Numerals
No numerals
Bezel Material
Ceramic
Case Diameter
40 mm
Case Thickness
12 mm
Lug to Lug
48 mm
Case Material
Steel
Lug Width
20 mm
Movement
Movement Type
Automatic
Number of Jewels
31
Power Reserve
70 hours
Movement Caliber
3285
Frequency
28800 bph
Retail Price: SAR 35,640
Market Average: SAR 72,000
Rolex GMT-Master II Ref 116710BLNR 'Batman' Specification
Basic Info
Brand
Rolex
Collection
GMT-Master II
Complications
Gmt, Date
Features
Rotating bezel
Style
Pilot
Case
Crystal
Sapphire crystal
Dial Color
Black
Water Resistance
100 meters
Dial Numerals
No numerals
Bezel Material
Ceramic
Case Diameter
40 mm
Case Thickness
12 mm
Lug to Lug
48 mm
Case Material
Steel
Lug Width
19 mm
Movement
Movement Type
Automatic
Number of Jewels
23
Movement Caliber
3186
Frequency
28800 bph
Retail Price: Discontinued
Second-hand Market Price: SAR 65,400 / USD 17,438
Rolex Batman GMT Review
As one of Rolex's most sought-after timepieces, the Batman GMT is also one of the most elusive. Since the bezel is half blue and half black, it has been dubbed "The Batman" for its ability to represent night and darkness.
The Rolex Batman GMT Master II is one of the most sought-after stainless steel Rolex sports watches in the world. Ref. 116710BLNR was the first model of the Rolex Batman GMT to be released. The Batman Saga was in full swing at the time of the 2013 release, and the dark night seemed appropriate for a watch of this calibre.
Previously, Rolex had never used the same colour combination of blue and black together. Rolex has previously released blue and red bezels, as well as red and black bezels, but this was a first for the brand, and some see it as a significant move. Since the release of the Rolex Batman, many Rolex collectors regard it as a holy grail watch. One that hasn't been seen in authorised dealer cases for years and sells well above retail on the pre-owned market is this watch.
For the time being, the most expensive pre-owned Rolex GMT Master II Oyster Bracelet is the 2021 model. To conduct this review, we used the reference that we were able to obtain. The first is that the Oyster bracelet is widely regarded as the best choice for the Batman by many people today. Personally, I wholeheartedly agree with this statement. To make matters even better, the 3285 movement in the 2021 Batman Oyster Bracelet reference boasts an increased power reserve of 70 hours. With this combination, enthusiasts now have the bracelet they wanted with the improved movement they craved.
Summary
In conclusion, our experience with the Rolex Batman GMT Master II has been a lot of fun in the end. The watch is well-made, attractive, and performs as one would expect from a watch of this calibre. Buying the Rolex Batman GMT is a no-brainer! You will not regret it.
New Rolex Batman vs Old. Which is Better?
You'll have to make a choice between an Oyster bracelet and a Jubilee bracelet when it comes to the design of the GMT-Master Batman. Both have their merits, but they each give the watch a distinct appearance. The GMT-Master II ref. 116710 BLNR, which features an Oyster bracelet, is a better choice if you prefer a sportier look. The new GMT-Master II ref. 126710 BLNR, on the other hand, features a dressier Jubilee bracelet.
You can buy a Rolex GMT-Master II 116710 BLNR right now! Naturally, the GMT-Master II ref. 126710 BLNR has a better automatic movement than the previous GMT-Master II it replaces. Because of this, if you're looking for a watch with the latest and greatest technology, the new Rolex Batman may be right up your alley. However, it's worth noting that the movement driving the older Rolex Batman is as robust and durable as you'd expect from movements made by Rolex.