What are the Best Rado watches in 2022?
In 1917, Fritz, Ernst, and Werner Schlup started Schlup & Co. out of their parent's house as a start-up business. They had to find a new location because of the trio's dedication to quality and their propensity for creating some truly exceptional watch movements at the time. In under 25 years, they became one of the country's most prominent makers of mechanical timepieces.
Since its inception in 1928, the Rado name has been synonymous with high-quality timepieces that are stylish and functional. It was a good moment for Rado's watches and its brand as its movements gained popularity with buyers. Among Rado's divers' timepieces, the Captain Cook collection, introduced in 1962, was a huge hit. Even today, the Captain Cook model name lives on.
As was the case with many of its competitors, Rado was looking for fresh opportunities to innovate and bring products to market. In 1962, the DiaStar 1 was launched, which the manufacturer claimed was the world's first scratch-resistant watch, thanks to its reinforced steel case and sapphire crystal.
A new exciting material was chosen for the Integral watch in 1986, which made further advancements to it the companies line of watches, which was high-tech ceramic.
The Swatch Group now owns Rado, and the company continues to manufacture models of excellent quality and appeal.
The Rado HyperChrome is a stunning illustration of what can be achieved by combining dress watches with everyday activity watches. This non-chronograph edition looks and feels exquisite on the wrist, and it has the quality that belies its surprisingly low asking price. In our opinion, the mix of blue and stainless steel on this watch is wonderful, and it serves as an excellent advertisement for blue dial watches in general.
---
Rado Captain Cook AutomaticR32505305
Check out this brown Captain Cook Automatic alternative if you're searching for something a touch more vintage. There has been a recent surge in popularity for brown dial timepieces since many watch collectors prefer them to the sea of black dial imitations. Your choice of watch shows that you've given it some thought and aren't just grabbing the 'next best thing' for yourself.
The brown dial on this Captain Cook by Rado is flawless. The brown colour of the watch goes perfectly with the watch's general look, which is based on a historic design. The sunray brushed dial, and off-white hands complement each other beautifully, and the decision to go with a black bezel instead of a brown one was an excellent one. Vintage appeal is further enhanced by the leather suede-effect strap that is affixed.
---
Rado HyperChrome ChronographR32259313
Rado's answer to the sports watch is the HyperChrome range of timepieces. Every one of the more than 70 types available is engineered to handle daily wear and tear, whether you're going to the gym or to work or even while you're dressed up in your sports attire.
The green dial, green subdials, and green bezel of this chronograph variant make it one of the sportiest colours we can think of. The monobloc structure means it's made from a single piece of injected ceramic, making it highly durable.
Quartz movement, subdials showing real-time seconds, chronograph splits, and minutes as well as a bezel with a tachymeter to monitor speed make it the ultimate tool watch. It's also water-resistant up to 100 metres.
---
Rado True Square Diamonds AutomaticR27078702
Rado has a variety of different True Square versions with more conventional dials. Let's look at an example like this Diamond model. Featuring a jet black dial and gold logo, this piece of beautiful design is at the pinnacle of simplicity. In addition, Rado has adorned each hour with a diamond instead of standard indices, adding a touch of glitz.
Diamonds are, of course, a girl's best friend; therefore, this watch is more gender-neutral than some of the others on our list. Guys can use them to dress up their look without being tacky by adding some extra bling to their hands and wrists.
---
Rado Captain Cook BronzeR32504407
Bronze is an intriguing metal that many watchmakers use. Rado's diver's watches are made of this material because of their ability to resist corrosion when exposed to seawater, making it a perfect choice for the watch face.
For those who want to dive, this bronze Captain Cook Rado watch is water-resistant up to 300 feet. The use of a screw-down crown makes this possible.
---
Rado Centrix Automatic DiamondsR30034712
In addition to the Rado-like aesthetics, the Centrix Automatic Diamonds also features a sleek and contemporary design. In addition to the black ceramic casing, this timepiece features a two-tone ceramic bracelet and a black dial with gold-tone hands to give it a classy aesthetic. The bracelet is a work of art in and of itself, combining elegance with ease of wear. With its transparent back, one can even see the watch's workings.
---
A collaboration between Rado and the renowned industrial designer Konstantin Grcic resulted in the re-release of Rado's classic Ceramica range in 2016. Timepieces like this, which have been given a glossy, high-polish finish, are known for their powerful geometric shape and eccentric modifications.
Thanks to its sleek design, softly curved profile, and high-tech ceramic case and band, the futuristic Ceramica is a dream timepiece for modernists. The watch has a 30mm square casing, a black lacquered-polished dial with a simple minute track, a date aperture at 6 o'clock, and silver-colored timekeeping hands. It has a quartz movement and is coupled to a extremely smooth bracelet and easy to wear on the wrist. This watch has a water-resistance rating of 50 metres.
---
Rado Coupole Classic ChronographR22910123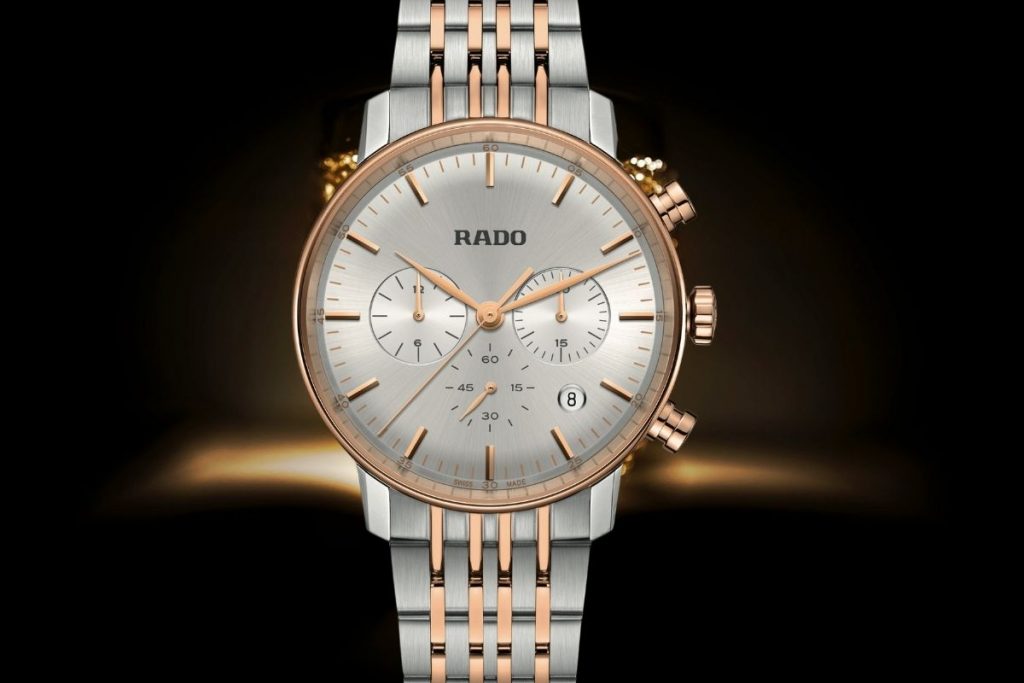 Ceramic timepieces are what Rado is best known for. However, if this isn't to your taste, consider the Coupole Classic, a stainless steel line that features the brand's understated elegance and minimalism but without porcelain.
The Coupole Classic Chronograph is the embodiment of the brand's values. The watch takes design influences from the brand's historical watches from the 1960s and offers retro looks with modern technology. Its 42mm stainless steel case and bracelet, as well as the clear and unadorned display, give the Couple Classic Chronograph a substantial presence on the wrist.
There are three subdials, a date window, perfectly spaced hour markers, and a central timekeeping system protected by scratch-resistant sapphire crystal glass on the face. There is a quartz movement inside the watch, which provides excellent performance while also requiring minimal upkeep.
---
Rado DiaMaster Skeleton
R14132122
As with many Rado watches, the case and bracelet are as significant as the watch itself. DiaMaster's skeletonized dial is a bold approach to show off both. A watch that appears to be made of stainless steel is actually built of Rado's unique plasma ceramic, a material that is exclusive to them.
The reasonable question is, "How did it get such a shine?" After being heated to 20,000 degrees Celsius, plasma ceramic takes on the appearance of a bluish-gray metal. At first glance, this may appear to be a simple operation; however, producing little clay pieces is quite challenging. All of the components of the DiaMaster watch, including the case and the band, are constructed of this material.
---
Rado DiaMaster DiamondsR14064945
Over the years, numerous watches in the DiaMaster line have found the correct mix between simplicity and extravagance. The DiaMaster Diamonds is part of that collection, being a classic-looking watch with a lot of elegance that may enchant anyone who sees it. It has a plasma high-tech ceramic case, 33mm white mother of pearl dial, sporting a pared-down and simple style. Off-center, 24 perfectly cut diamonds lend a dash of elegance to the piece. There are three hands and a date aperture on the DiaMaster Diamonds' dial, powered by a quartz movement. The leather strap with this watch is quite soft and comfy to wear.
---
Conclusion
Rado are a company providing stylish and high quality timepieces as shown above, what sets them apart from the competition is the affordability for many more people. If none of these meet your requirements be sure to check our shopping page for Rado Watches in KSA!