Rolex watches are a one-of-a-kind item. A brand new retail one is nearly impossible to find leaving many to seek them out on the secondary market. To find a pre-owned Rolex, most customers must pay a premium on the secondary market. In today's market, many watch collectors are left wondering which of the top Rolex Investment Watches of 2023 are available for purchase and which one is best.
Some Rolex watch collectors in KSA simply want to own a piece of history, while others are hoping to profit from the sale of their valuable timepieces. It's reassuring to know whether or not that pricey timepiece you just bought was a wise investment or a dud. Which 2023 Rolex timepieces are great investments and how much money you can expect to gain by purchasing them new at MSRP will be discussed in this article.
What Rolex Watches to Buy as an Investment in 2023
What are the greatest Rolex investment watches for 2023 in Saudi Arabia? Look no further. We've compiled a list for you. In order to provide up-to-date pricing information for each reference, our staff combed through various watch markets for pre-owned watch prices.
If you want the best return on any of the timepieces on our list, you should buy them new at the original retail price. Although in some cases, it's impossible to find a brand-new model from an authorised retailer.
John Mayer Daytona 116508
One of the top Rolex investments in 2023 is the John Mayer Daytona in yellow gold with a green dial. The MSRP of this particular model is $37,550, however it has been advertised as high as $85,500. Yes, the design and colour scheme of this Rolex-inspired timepiece is stunning, but I believe the brand name has given it an extra layer of appeal. When it comes to excellent watches, Mayer is well-known as a connoisseur who has made a name for himself in the industry.
If you want a John Mayer Rolex Daytona from an authorized retailer, you'll have to put your name on a waiting list that could take 5-10 years, by which time the watch may have been discontinued.
Rolex Cosmograph Daytona Ceramic and Stainless Steel
The most sought-after Rolex Daytona watches are the Stainless Steel models. Pre-owned stainless steel references sell for more than some brand new models made with precious metals due to their high demand. $14,550 gets you either a white or black dial Rolex Daytona stainless steel watch from an authorized dealer brand new.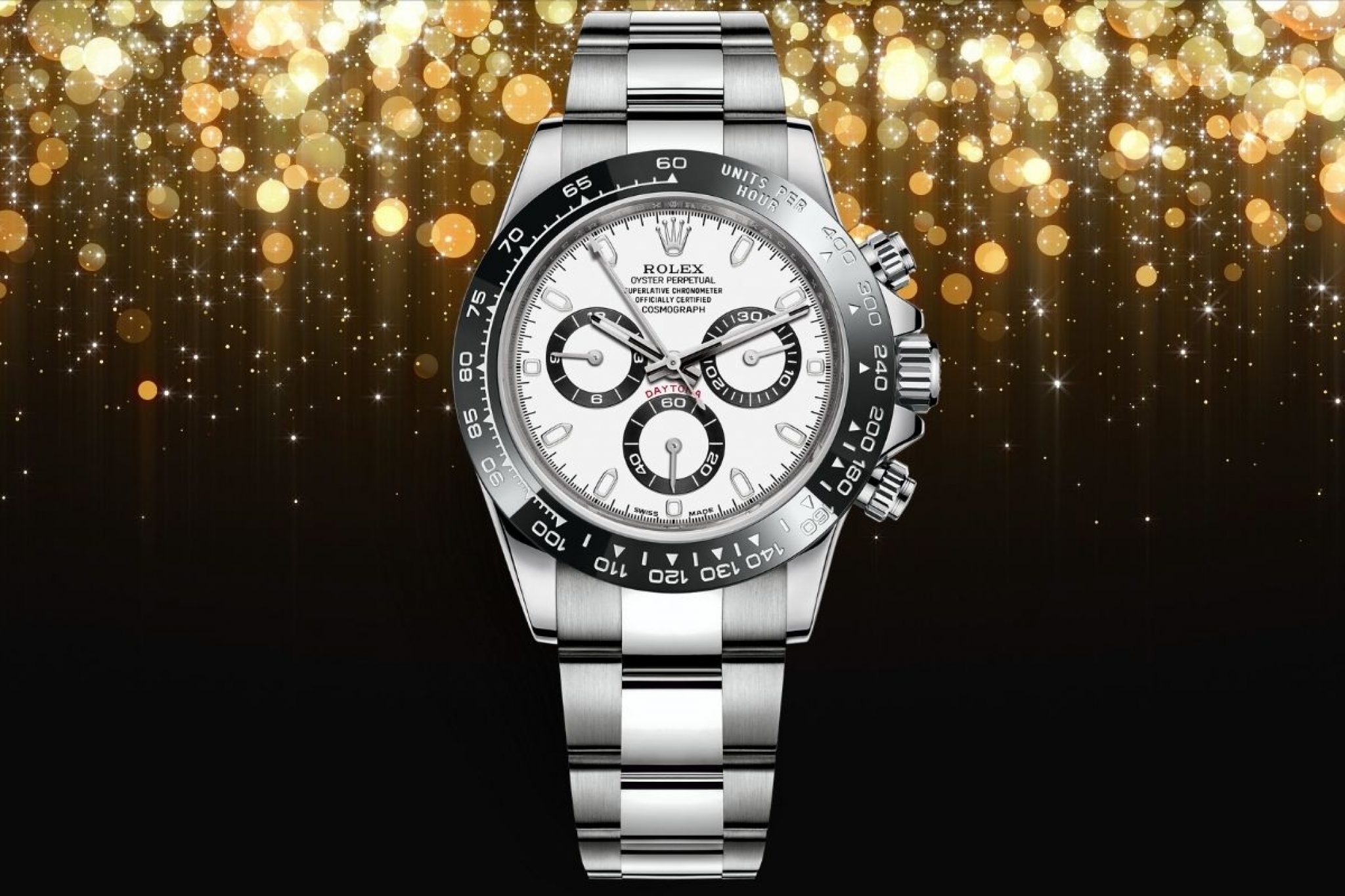 These references pre-owned cost $20,000 just 18 months ago, with individuals who purchased them have seen an incredible return on their investment since – selling for as much as $40,000 pre-owned for the white dial model.
Rolex Batman GMT Master II (2021) – 126710BLNR
The Oyster bracelet, in the opinion of many collectors, is the ideal setting for the Batman charm. This watch's popularity skyrocketed after Rolex announced in 2021 that it would be available on Oyster bracelet with an upgraded 3285 movement. A rumour that this move would devalue the Batman quickly disproved itself. The 2021 Batman on the Oyster bracelet has seen pre-owned prices as high as $23,000, making it an excellent Rolex 2023 investment watch because the MSRP is less than half that amount, $10,750.
Learn more about the Rolex Batman in this Article
Rolex Pepsi GMT Master II – 126710BLRO
When it was first released, the Pepsi GMT was one of Rolex's most popular models. Even after decades since the original Rolex Pepsi watches, the collection is still hot and is one of the most difficult Rolex watches to purchase from authorized dealers.. Pre-owned listings for the 126710BLRO Pepsi reference go for as much as $22,000; despite this GMT-Master II costing just $10,750 brand new.
The Rolex Pepsi is likely to be included in the Rolex Investment Watch Rankings for the foreseeable future. Making it a pretty safe investment if you can get yourself one at RRP or below the average cost on the secondary market.
Check out our Rolex Pepsi Buyers Guide for a more detailed rundown.
Rolex Oyster Perpetual with Tiffany (124300) or Cotton Candy Dial (126000)
We don't see Rolex's lively hues very frequently, but in 2020, they surprised everyone by going against all expectations. The bright dial colours were used on all of the Oyster Perpetual watches in the 36mm and 41mm sizes. After adding the new Oyster Perpetual dials, the collection can now be considered among the top investment watches for 2022.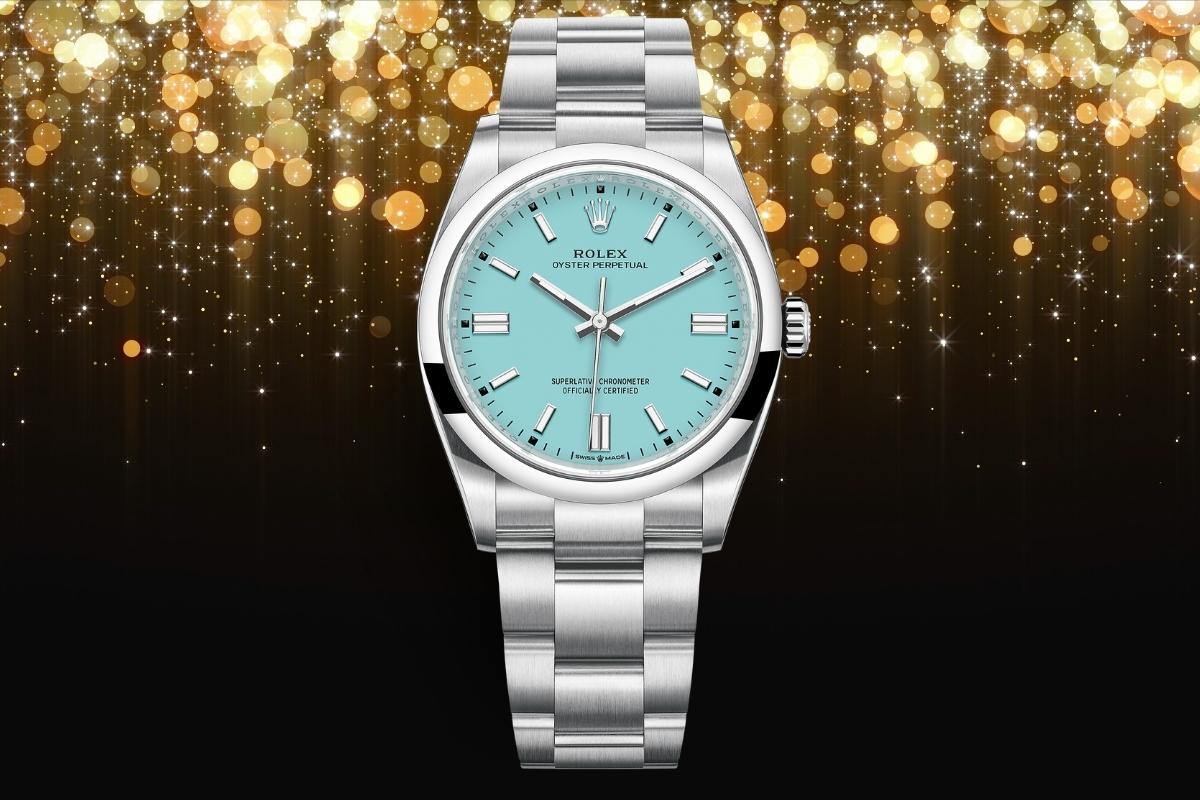 Prior to this point, Oyster Perpetual Watches were never considered a good investment. This has changed with the introduction of these flashy designs with the Tiffany and Cotton Candy dialed timepieces in particular making an excellent investment. The 36mm and 41mm in these colours have an MSRP of $5,800 and $6,150, respectively. While currently selling for Between $16,000 and $18,000 pre-owned on the secondary market.
Rolex Submariner Kermit/Starbucks
The Submariner is the most famous Rolex watch, and green is the company's most recognisable hue. When Rolex combines green with the Submariner, it's only natural that the timepiece will become one of the Best Rolex Investment Watches. Obtaining a Hulk watch was nearly impossible; similarly, the Kermit (or Starbucks) appears to be just as difficult.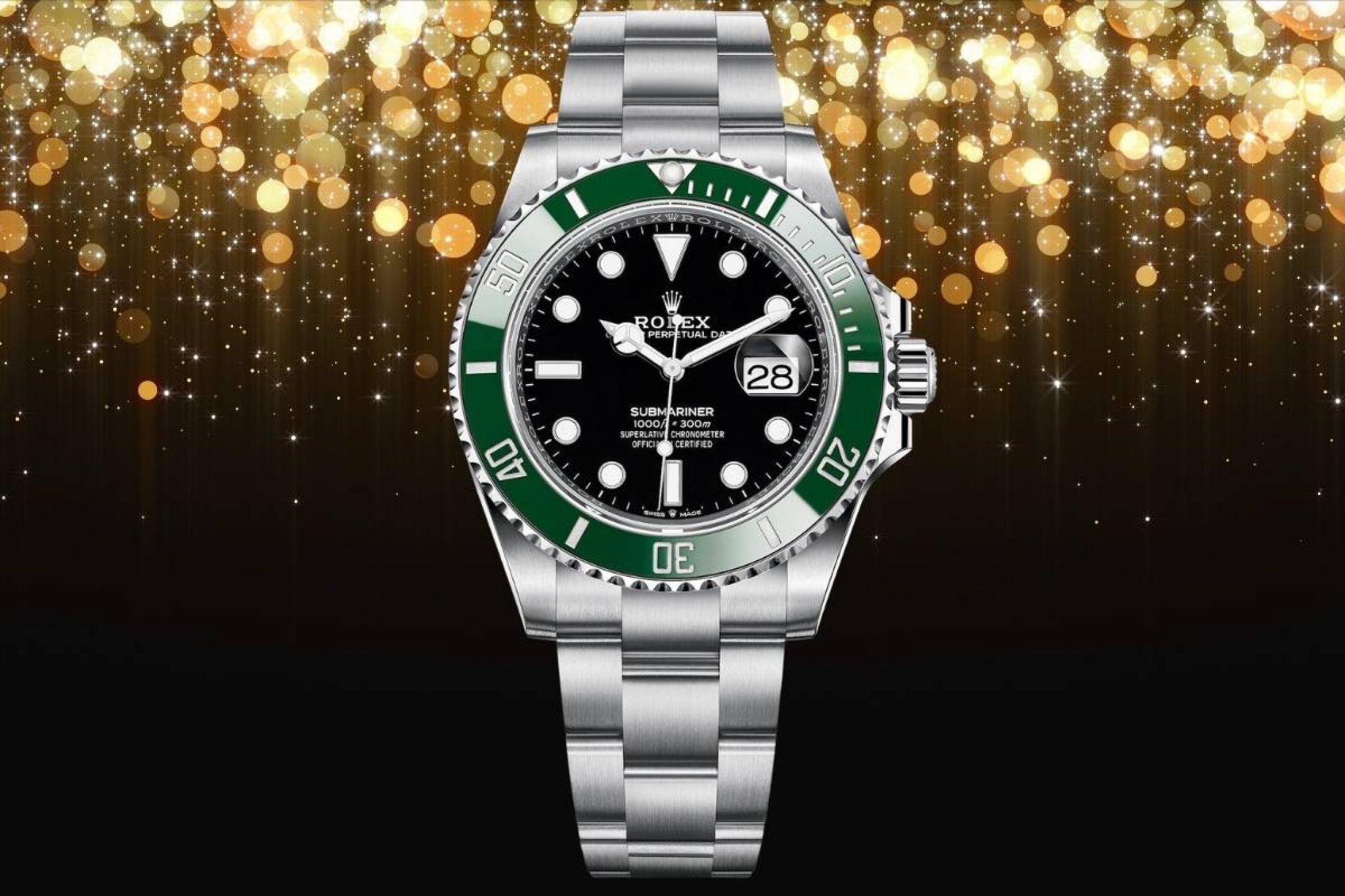 At $10,600 MSRP, Rolex's Kermit 126610LV is one of the most sought-after models on the secondary market. Selling for up to $21,000 pre-owned online, what makes this a more interesting investment is the fact not many are currently available, which is likely to contribute to the premium it commands as time goes on.
Blue Rolex Sky Dweller with Jubilee Bracelet
The Rolex Sky Dweller is one of the most aesthetically pleasing timepieces ever created by the brand. The fluted bezel, sunburst dial, and comfy Oyster bracelet of the Sky Dweller follow the fashions of other lines. In 2022, all of the watches in this collection will do exceptionally well as Rolex investment timepieces, but the blue dial Rolex Sky Dwell with the Jubilee Bracelet is likely to be the star pick.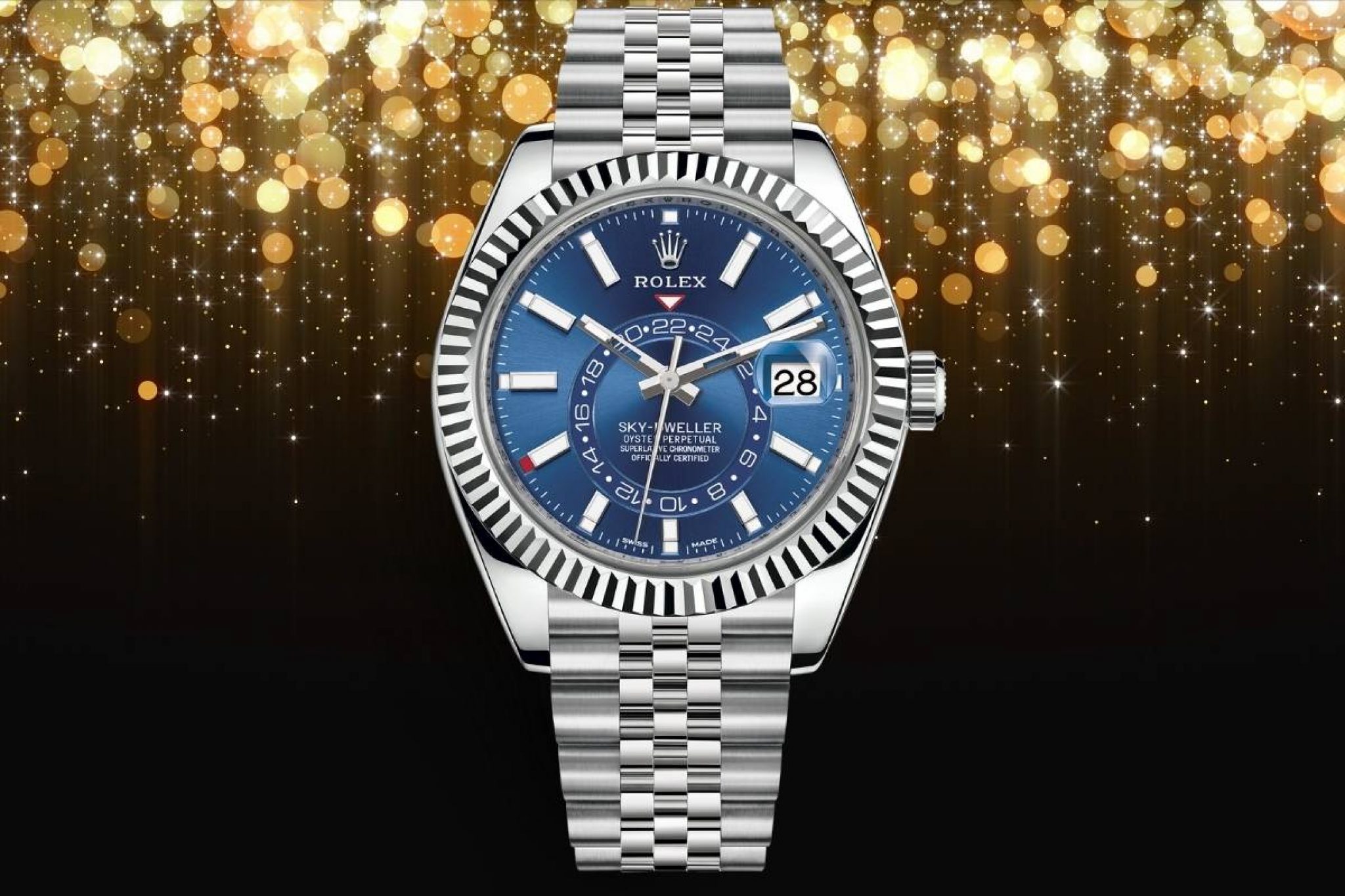 The MSRP for a Rolex Sky Dweller on a Jubilee bracelet is $15,200, but the pre-owned pricing is currently more than double this. There is a wide range of prices on online markets, although most of these models sell for between $34,000 and $38,000 pre-owned.
Rolex Submariner
The Rolex Submariner is one of the most recognisable timepiece ever created. Rolex watches never go out of style and will always be in great demand, making this one an excellent investment due its limited risk. If you buy a black Submariner with or without a date, you can be sure that it will always be worth more than you paid for it new or pre-owned, even if other Rolex watches in KSA sell for much more. Rolex's Submariner will always have a following no matter how the world changes around it.
They retail for $8,950 and $10,100 brand new, respectively, and may be found for sale used for as much as $14,000.
Rolex Explorer 36mm Model
It's been a long time coming, but Rolex fans have finally gotten their wish with the return of the Explorer series to its original 36mm size. Despite the growing demand, the 36mm Explorer had not been seen since its initial introduction. Rolex owners with smaller wrists are flocking to this collection in 2022, which makes this watch a suitable investment watch for those looking for a newer model.
The stainless steel Rolex Explorer I retails for $7,200 brand new. Pre-owned timepieces on the secondary market tend to be priced around $12,000 on average.
Green Dial Rolex Day Date in Rose Gold
The rose gold and green dial Day Date 228235 reference is a fan favourite being one of the more elegant and sought after Rolex watches. Rolex's Day Date is a high-end timepiece, and as such, it's one of their most expensive. Any Rolex with the trademark green dial will almost certainly be an investment watch, and this is no exception.
Pre-owned prices for the Rolex Day Date 228235 are currently as high as $65,000, making this watch one of the top Rolex Investment Watches in 2023 with a Retail Price of just $39,250.